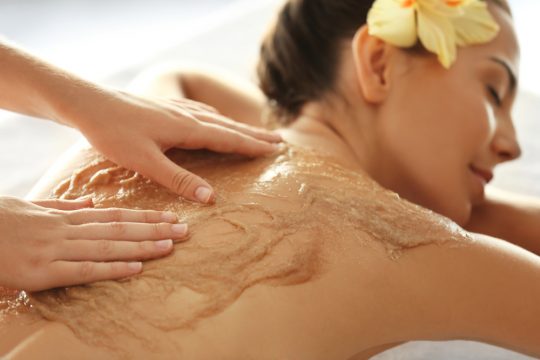 Vimarn Thai Massage offers a body scrub treatment with a massage first, to completely relax the recipient and loosen the pores of the skin. A body scrub is a popular body treatment that's like a facial for the body. It exfoliates and hydrates your skin, leaving it smooth and soft. A body scrub is done with an abrasive treatment mixed with massage oils and aromatic essential oils. The exfoliation is then followed by a shower.
If you're looking for the ultimate way to pamper yourself and restore your energy and mood, schedule a body scrub in Torrance, CA with us today! We promise you'll leave with a noticeable glow and feel better than you have in weeks. Plus, with a massage incorporated into your visit, you'll feel brand-new when the time comes to face the world again.
Pamper Yourself
A body scrub is a great way to give yourself a spa-like treatment without having to spend hours and hours at an expensive spa. This scrub can be applied in just a few minutes and washed off shortly after it begins to take effect. When you're done, you'll feel fresh, clean and invigorated!
Pair your body scrub with the best massages in Torrance, CA and you've got a recipe for restoration that you'll absolutely love. With the comfortable facilities offered by Vimarn Thai Massage and a friendly, welcoming staff to provide you with tailored treatments, you'll experience nothing short of complete bliss.
Quick Massages
Don't have a lot of time to spend on yourself? Don't worry—we're here to accommodate you! Stop in for a quick body scrub and one of our 30-minute neck, shoulder and back massages. You'll get a complete treatment in under an hour, so you can get on with your day while still feeling like you've been pampered.
For more information about our body scrubs or to schedule an appointment at one of our three locations, please call 424-250-9143.